In this edition of Apps of the Week, we fend off killer zombies on the soccer field, "get the red out" of our photos, and feel a little sorry for a new app for Facebook videos that simply fell victim to bad timing.
Revision3
Price: FREE
If you're a fan of Internet television you're probably already familiar with the many shows and segments of Revision3, including our personal favorite, AppJudgment, a mobile apps reviews show. They've finally released their own iPhone app, where you can watch videos of the shows straight from your device, so if you're not already on the bandwagon, this is an easy way to go ahead and hop right on.
---
G4
Price: FREE
In even more nerdy news, G4 has arrived on the iPhone! The TV network's app allows you watch video clips from shows like Attack of the Show, check out the latest gaming news, get tips and cheats, and read the latest reviews. Gamers: commence drooling.
---
DogBeMine
Price: $0.99
Summer's here, and it seems like everyone (who doesn't already have one) is getting puppy fever. If you do happen to embark on a new puppy journey, this app wouldn't be bad to have around. DogBeMine has some helpful tips on training your new family member, a feature that lets you view and share your own photos of your new friend, and a "shake" feature that will make your phone "bark" when shaken. As if you weren't sick of the new noises in your house!
---
Pro Zombie Soccer
Price: $0.99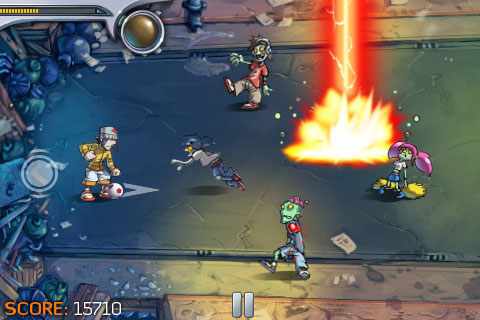 We can always count on at least one cool zombie app to come out every week, and this one is no exception. This game cashes in on World Cup fever by pitting zombies against zombies in a soccer match…of death. Kick soccer balls into space, fend off zombies with your death ray, and watch body parts fly on the field.
---
FaceVideo for Facebook
Price: $0.99
This app was released on June 12, and it claims to let you bookmark and/or download videos on Facebook, which didn't support viewing videos on the iPhone…until now. Tough luck for this FaceVideo app, as Facebook just a week later released an update for their iPhone app that allows users to view videos on their iPhones. Just another case of bad timing, really.
---
Crossword Genie
Price: $2.99
Stumped on this one word in your crossword puzzle? Tearing your hair out over not completing the puzzle because of this ONE letter? We're sure most die-hard crossword puzzlers out there would avoid this at all costs, attempting to figure it out on their own, but there's help out there! Secretly cheat and finish your puzzle with the Crossword Genie app that will configure possible combinations of words that will fill the space.
---
VISINE Red Eye Remover
Price: FREE
How clever! Visine is an eyedrop product that helps "get the red out," so they've released their own iPhone app that removes red eye from your photos. It may be a little hokey, but it does get the job done.
---
Find my iPhone
Price: FREE
It takes a subscription with MobileMe ($99/year) to work, but this is a pretty sweet deal for anyone who's lost a phone or had one stolen. Download the Find my iPhone app to someone else's iPhone (duh!), then sign in with your MobileMe account. The app will track your iPhone's location, showing it on a Google Map. Use caution if chasing down a mugger, though. Or, better yet, just don't do that at all.
---
Strip Clubs
Price: $2.99
There are already a few apps in the App Store that will locate strip clubs for you on a map, but this one takes the cake for the…er…creative graphics and rating treatments. One thing: The app encourages users to submit photos from both outside and inside the establishments, although we're pretty sure that's prohibited in most clubs. Right? Anyhow, proceed with caution, users.
---
Apple Store
Price: FREE
It may not have been able to help most people who tried using the brand new app to reserve their iPhone 4 for launch day (though EiC's fearless founder, Chris, managed to do so with ease), but the Apple Store app is pretty useful for any Machead, especially one in crisis. Use the app to locate an Apple Store near you, reserve an appointment with the Genius Bar, review products, and shop online.